Posted on | July 17, 2007 | 4 Comments
Shayna Baszler Interview
BY: Michael Fountain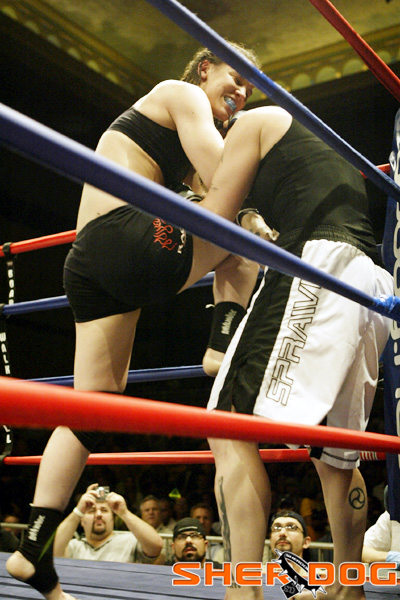 Shayna Baszler is one of the top female fighters in MMA today. Shayna has fought many of the top fighters competing today such as Tara LaRosa, Roxanne Modaferri and Amanda Buckner. Shayna's next fight is July 27TH on the Bodogfight Pay Per view against one of my personal favorites Jan Finney.
1. What path led you to professional mixed martial arts?
I started off training and fighting at small low level local shows, and with success came more and more offers until I just got the right offer at the right time.
2. Are there any extra hurdles being a female in pro MMA, or is it basically the same struggle for both genders?
I think it's pretty much the same struggles, especially with people who are uneducated about the sport. It's the same stupid discussions. As for within the sport, I think we do have to work harder in order for people, especially other males, to take us seriously.
3. What brings you the most fulfillment out of MMA?
I love what MMA does for me as an entire person. It's not just about the fighting; it's about completing who you are as a person. I think anyone whose ultimate goal is the fighting is missing out on a big part of MMA and martial arts in general.
4. Who are some of the people who have influenced you?
Bruce Hoyer and Aaron Hullinger really influenced me to train for real at a legitimate school. If not for them I would not be at this level. John Arends really opened my eyes to how endless standup can be as well. I never had a true appreciation for it until he started training me.
5. What are your other interests outside of mixed martial arts?
I am basically a big nerd. I love video games. I read. I play the guitar and the cello. I like street magic. And I love working with kids.
6. who's someone in particular you've always admired in the sport and why?
I would have to say Greg Nelson. I think the thing I admire the most about him is that even though he is one of the most accomplished martial artists in the country and runs one of the best schools in the country, he never stops learning. He is forever a student and therefore forever growing. I think that's an important quality to have.
7. What is one of your most memorable fights?
I would have to say my 2nd fight with Amanda Buckner. That's the 1st fight where I believed that I could hang with someone that was up there. That fight really matured me as well.
8. What would you say to young fighters looking to make a career in mixed martial arts?
I would say first of all to not miss out on the lessons martial arts and fighting teaches, like I said, there is more to fighting than just fighting. On the practical side, I would really advise that people train true arts. There are so many "MMA" schools that just train MMA. There stuff is watered down; their technique is not quite as good. Like, learn Maui Thai for the sake of Maui Thai, learn jiu jitsu for the sake of jiu jitsu, and learn wrestling for wrestling. Don't go into something learning it for MMA. Take time on your own to put it all together outside of those settings. I learned you come to understand the techniques better and the reasons they apply if you do it that way. Also, going back to what I said before, if you do it this way, you get the history and the intrinsic aspect a little better as well.
9. What's it like to fight for Bodogfight.
It's an absolute blast! They take SUCH good care of ALL of their fighters. It's seriously the best thing I could be doing right now. It's so bad how good they treat you that I get bummed out if I'm not gonna be on the next card.
10. What's it like to fight over seas?
Just traveling in general is a blast to begin with and then add me doing what I love on top of that….what could be better! It's really cool because MMA is still a baby sport in the US. It's nice to go places where people are educated about it like it's an everyday thing.
11. What's it like when you get in the ring or cage and the Ref says FIGHT?
I'll say this; I've played sports my entire life. I've stood in the batters box with 2 strikes and the winning run on 3rd. I've stood on the free throw line with .2 seconds left and tie game. But, NOTHING compares to that moment when you are across the ring staring at your opponent and the ref says, "Are you ready?" FIGHT!"
12. Where is Pro MMA headed?
I only see it getting more and more accepted. There's more and more of it in the mainstream media and as that happens, people's understanding of it will grow as well as their acceptance of it.
13. Will Pro MMA take the spotlight away from Boxing? Or is there room for both sports in the hearts of fight fans?
I think it's apples and oranges. I like both sports. Many people do. The only reason people compare them now is because they are uneducated about the sport and that's the closest reference they have.
14. What's next for Females in Pro MMA?
It's only going to get better and the talent pool will get deeper and deeper as more shows choose to showcase the females simply because of the increase in opportunities for us.
IF I don't ask the next couple of questions I will never be able to live with myself.
15. There are so many fighters out there today in so many weight classes it's hard for the fans to say who is the best female or male fighter. What do you think? Who do you think is the Best female? And Male? And why?
MY favorite female fighter is probably Amanda Buckner. I think her technique is so clean compared to everyone else's. Favorite male…hmmmm. I don't want to sound cliché, but I have to go with Couture. I think his game planning is the best in the biz.
16. Who would you like to fight next? I would love to see you and Jan Finney get in the ring.
I am actually fighting Jan on Pay per View on July 27th. I would love a rematch with Tara LaRosa someday.
17. What's next for you?
Jan on the 27th, Bodog in October, grappling tourneys in between.
Shayna's Videos:
Video #1:
Video #2
Comments


FOLLOW US ON TWITTER AND FACEBOOK